2000 Furnace Creek 508 Webcast
Results & Time Splits (Searchable Database) | Results Page | Race Roster | Post-Race Report YouTube Channel
---
Welcome to the 2000 Furnace Creek 508 Webcast, hosted exclusively here at www.the508.com, directed by Keith Kostman and Mike Angelos, and produced by adventureCORPS. Click below for all the info about the 2000 race as it progresses. We will post updates here regularly, featuring time splits through the seven race Time Stations along the route, as well as the finish line arrival times, plus stories, images, and even some video. We hope this gives you a little bit of the feeling of participating in this awesome race and challenging this one-of-a-kind race course. To keep abreast of future developments with the race, click Mailing List above to receive our email newsletters.
Basic Info
Race Roster with totem, age, home town, state, and country
Race Route, including an elevation map, course descriptions, and Time Station locations
---
Reports from the Course
Multiple Field Reports from the Course
Time Splits for all Racers through all Time Stations with Overall Results and Average Speeds
2000 360 degree panoramic "movie" of Team Armadillo's Michael Olstad passing through Amboy
---
Slideshows in Chronological Order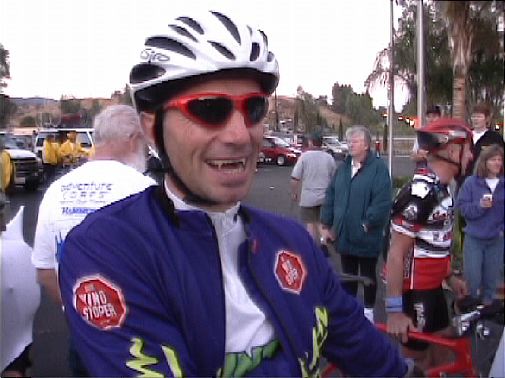 Fabio Bunny Biasiolo, ready to race, the morning after the full moon of
Friday the 13th of October. Perhaps his totem should have been werewolf?
Photo by Dan Dominy.
 
Prior to the Solo Start, then the Solo Race Begins!
The First Miles of the Solo Race
More First Miles of the Solo Race
The First Miles of the Team Race
More First Miles of the Team Race
Team Race Mile 54 to 115, plus Chuck Honey Bee Hanson
Solo Race from Trona to Townes Pass, mostly rear half of the solo field
Mostly Solo Race from Furnace Creek to Salsberry Pass, moving towards front of the field
Shoshone to Baker, Solo and Team
Baker to Mile 420: Front Solo Racers except for Bohannon
Time Station 6, Bohannon, Two Front Teams, and Time Station 7's Luau Party
Team Armadillo's Michael Olstad
Team Armadillo, Wonder Valley to the Finish, and Arrival of First Two Teams
Bohannon into Time Station 7's Luau Party
Solo Champ Bohannon into the Finish Line
Finish Line Arrivals: 1530 to 1810, Sunday
Finish Line Arrivals: 1810 to 2200, Sunday
Finish Line Arrivals: 2240, Sunday, to 0310, Monday
Finish Line Arrivals: 0406 to 0449, Monday
---
Videos—just click a link:
Strange questions: Fabio Biasiolo
Pushing the Envelope: Jewette Pattee Age 77
---
Furnace Creek 508 Webcast Archives
2009 | 2008 | 2007 | 2006 | 2005 | 2004 | 2003 | 2002 | 2001 | 2000