2002 Furnace Creek 508 Race Dedication
| | | |
| --- | --- | --- |
| | The 2002 Furnace Creek 508 is jointly dedicated to Jonathan Abalone Arnow and Perry Swan Smith for their courage in life, on and off the bike. | |
Perry Swan Smith
Perry Swan Smith first earned his totem as a solo entrant in the 1996 Furnace Creek 508. He would DNF that year, and again in 1997, before the third time was the charm in 1998. He finished that year in 46:14:19, becoming an official finisher of the world's toughest weekend bicycle race.
Perry is an incredible, and professional, writer and editor. About Townes Pass, he wrote this short poem for his 1998 race story:
Moving now beyond reason,
They struggle against the mountain
Against the night,
Suspended, clawing skyward
Like souls ascending
He would repeat (threepeat?) that process over the next three years, DNFing in 1999 and 2000 before setting a PR as an official finisher again in 2001 with a time of 41:47:30.
On the bike, 2001 was a banner year for Perry, because his second Furnace Creek 508 official finish was the icing on the cake after becoming the only finisher of the entire AdventureCORPS Brevet Series of 200km, 300km, 400km, and 600km rides that Spring, as well as the Gold Rush 1200km from Davis to Oregon and back in August. You can see the pride and sense of accomplishment in Perry's face at the finish line of the 508 after such an incredible year.
But appearances can sometimes be sadly deceiving as Perry soon learned.
Accoring to Perry's sister, Rennae, "on November 19, 2001 Perry began to feel sick and almost passed out at home. But because he had his cell phone nearby, he called 911. He was admitted to Hoag (Newport Beach) and after a day or two, he was diagnosed with meningitis with strep pnemonia. It was not contagious. Further testing lead to a diagnosis of subacute bacterial endocarditis, which is secondary to meningitis. The endocarditis is when the aortic heart valve is affected.
"After all that, a piece of aortic heart valve (called vegetation) fell off and traveled up the carotid artery and caused a massive stroke in the right hemisphere of the brain. He had a massive stroke on November 24, which left him partially paralyzed on his left side. He then he had open heart surgery on December 4, then he received a pacemaker. He was in the hospital from November, 2001 through February 2002.
"Needless to say, it has been very difficult for Perry because he cannot do one of the things he loves—cycling. He has since regained some movement but he still has a long way to go."
"First he had to learn to sit up, then to stand, then to walk, etc.
"That's about it—in a nutshell. All in all, he's recovering nicely. He walks with a cane and has some movement in his left arm."
"When he was in the hospital, I printed some 508 info from the Internet to give to him. And over the weekend, he asked me to print some more—of the articles and photographs—and that's when I decided to send an email to Chris. Chris put the word out to the 508 and ultracycling community about Perry and the response has been incredible
"Perry was so touched by the many cards and letters he received from people he knows and from others he didn't know in the cycling community. It has been such a blessing to me knowing that his extended family is so broad and that you guys (and gals) really do care about him. When he's having a "down" day and receives well wishes and encouraging words in the mail, it really gives him an extra boost. He is especially encouraged by those letters that mention knowing someone who has recovered or is recovering from a stroke. It's a daily challenge and as long as he is as determined as he is, he will continue to do better."

To read "IT'S Out There," Perry's account of the 1998 race, click here.
To read "THE RACE THIS TIME," Perry's account of the 2001 race, click here.
Addendum, added June 6, 2008:
PERRY SWAN SMITH LEAVES ON THE BIG ADVENTURE
Perry's sister Rennae contacted us this week to let us know that Perry passed away on June 2. He had become ill and was having troubled breathing, so he went to the hospital where he later died from congestive heart failure. Perry was only 58 years old this past Saturday.
The services will be held as follows:
Saturday, June 7 at 2:00 pm
Fairhaven Memorial Park & Mortuary
1702 Fairhaven Avenue
Santa Ana, Ca 92705
Letters of condolence may be sent to:
Rennae Brewer
P O Box 1692
Redondo Beach, CA 90278
Perry was a kind person, a true sportsman, and a welcome, wonderful member of the AdventureCORPS family. We will miss him.
- Chris Kostman
---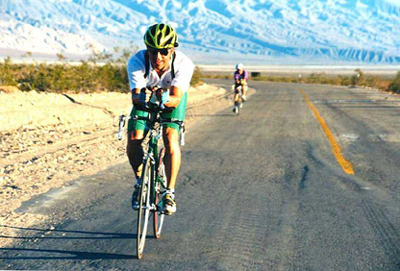 Jonathan Abalone Arnow
In 1998, only two years after buying his first road bike, Jonathan Abalone Arnow finished his rookie Furnace Creek 508 attempt in just over 37 hours-amazing considering it was his first overnight ride and first ride longer than a double century. He returned in 1999, and rode in fourth place for much of the second half of the race, until dropping to fifth because of knee pain (or it could have been the 20 minute wait for the train to inch across the road in Amboy). He finished the race in 35h20m alongside the Crocodile, a good friend and training partner who caught him around 10 miles from the end. (Totem lore: the Abalone chose as crew chiefs former 508 racers whose aquatic totems spanned the absolute size extremes: the Whale and the Amoeba.)
His commitment to the sport echoes other aspects of his life. Born in Kansas and raised in New York, he completed his undergrad work at Brown University before continuing his education at Yale School of Medicine. He interned in Denver, then had a Family Practice at Kayenta on the Navaho Reservation. He later specialized in Ear, Nose and Throat medicine, practicing in Reno for thirteen years. In 2001, he retired to spend more time with his wife, Debbie, and their 12-year-old son, Sam.
Retirement also gave Jon more time to devote to his other athletic interests. Rock climbing: five ascents of Yosemite's El Capitan, as well as Half Dome and a few 23,000-foot summits of the Cordillera Blanca in Peru. Ice climbing: in British Columbia. Skiing: ski mountaineering, heli-skiing, downhill skiing-all at the expert level.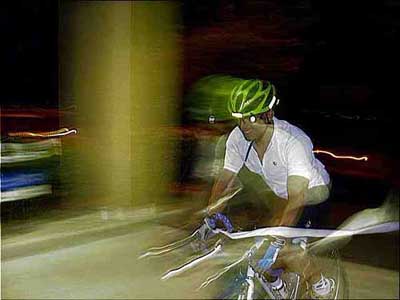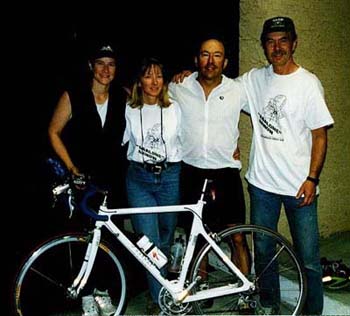 It was on February 21, 2002, while skiing down an Alpine Meadows double black diamond run under icing conditions that Jon's life changed. He caught an edge, fell, slid about 900 vertical feet, and catapulted over a boulder before finally coming to a stop. The accident resulted in a severely crushed pelvis, a punctured lung, torn intestines, massive loss of blood and a fractured spinal cord. For the next 46 days he survived attached to machines at the ICU at Washoe Medical Clinic (where he once practiced), undergoing twenty or so operations. He then transferred to the Craig Institute in Denver to continue his recovery. Finally, on August 1 he returned to his home in Reno for the first time since the accident.
At first, doctors feared Jon's injuries would leave him a quadriplegic. But through his physical and mental tenacity, he slowly regained use of both arms and his right leg. The left leg remains paralyzed: after trauma like Jon's, recovery is possible for up to two years. He is six months into that period. Already he has regained over half the 40 pounds of muscle weight that he lost. He can do wheelies in his Spinergy-equipped titanium wheelchair. He's up to an hour and a half walks around his hilly neighborhood, using his new custom crutches (also titanium). A local bike mechanic welded two wheelbarrow-sized training wheels onto his wife's beach cruiser, allowing him to one-leg-pedal the forty-pound monstrosity along the Truckee River. He hand-cycles. He kayaks. And with his squash background, he plays an impressive game of wheelchair tennis.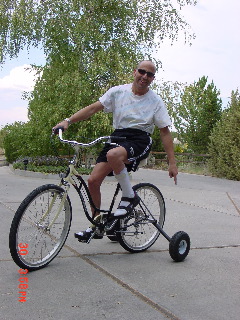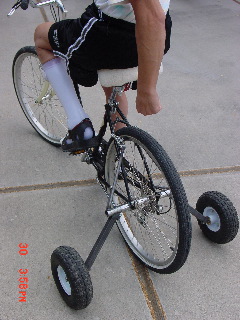 Jon has thoroughly enjoyed meeting and riding with friends in the ultracycling community. Many have been there to help him through his recovery. As for future ultracycling plans, he says he'll be back-and there's no reason to doubt that. After tearing himself away from his officiating responsibilities at this year's race, he plans to start logging miles on his handcycle.
As for his buddy the Amoeba, he has this to say about Jon:
"Jon's spirit is amazing. I've always wondered how I'd react to losing a leg--or at least the functionality of a leg—but I've never imagined I could react quite as positively/enthusiastically as Jon. While at times he wishes he could step away from the physical challenges, he doesn't let it get in the way any more than it absolutely has to. In fact, it's almost like he's welcoming the challenges: almost like he's accomplished whatever he can with two good legs and now it's time to accomplish whatever's possible with one leg. Truly an inspiration."
Jon can be reached at [email protected] and 4279 Water Hole Rd, Reno, NV 89509
To read "An Abalone's Eye View of the 508," Jon's account of the 1999 race, click here.