Setting Up Amber Roof Lights for the Support Vehicle
Be sure to also check out the Vehicle Set-Up Webpage of Bill Osborn of Team Onager.
Added in September 2008:
David Bradly of 2x Team Raven Lunatics sent in this excellent Pdf about setting up lights. He reports: This is a quick and dirty instruction sheet but I think anyone should be able to make these sets in about 30 minutes. I've made several sets that have all lasted through multiple RAAMs, 508's and RAOs. I've have yet to have a set fail and I think they are attractive too.
Team Black Angus Cow is using these, and they appear to be particularly excellent:
https://www.magnalight.com/pc-66-21-hazard-flashing-lights-with-magnetic-base.aspx
---
Roger "JabberJaw" Hogan reports: I bought these lights, 2022 model flash four series at a local shop. But found them on this web site. I bought two and used a splitter to tie both on them into the vehicles electrical system. I also taped the front so it only flashes in the rear. The Haulmaster is only twenty bucks and should also meet the requirement.
http://www.oviedosafetylights.com/Shopping.idc?ProductCategory=11
---
At least one team will be using these, after covering up the front half:
http://shop.easternmarine.com/index.cfm?fuseaction=catalog.prodInfo&productID=6160&categoryID=0
---
I did find these lights available online which appear to fit our needs and current rules:
http://www.jcwhitney.com/Flash-Warning-Lights/600003083.jcw
---
At least one team will be using these. Just be sure you get the amber model and have a plan in place for mounting it.
---
Gloria Castro of Team 2x Wolf Fish reports that "Pep Boys has electrical-powered (i.e. cigarrette lighter) amber lights for $24.99. magnet mounted. we also bought an extension cord with a double-outlet for our car there as well."
---
I do want to thank Dennis Barton, who sent in a three page Pdf which demonstrates how he set up his lights when he crewed in 2002, and which he will use when he competes this year on a 2x team with his son. Info:
SIMPLE FLASHING AMBER LIGHTS By Dennis Barton (Member of 2x Team Brontosaurus in 2008):
I used this setup as a support driver in 2002. For 2008, I will be using two such sets. Although the amber lights appear "small", they are quite bright. I use fair size magnets to attach the lights to the roof of the van. Be sure to have adequate length of wiring from the power plug to the first light.
Total cost, excluding wire & connectors = $15. Also needed: 1 roll of dual speaker wire and connectors; colored tape; and strongish magnets to attach to roof. Most items are available in generic auto supply stores. Download the Pdf form:
http://www.the508.com/support/vehicleflashers.pdf
---
Keith Kakapo Kohan, an 18-year-old solo recumbent racer in 2008, sent us this on September 17, 2008:
Last weekend I installed four amber lights to our support vehicle. Total out of pocket cost was about $28.00. I bought four lights, a flasher, and wire at the local Knechts auto parts store. The wiring setup is very similar to the example given in your last post (the Pdf linked above). The differences are I used four lights and they're attached to my Yakima rack. Two photos: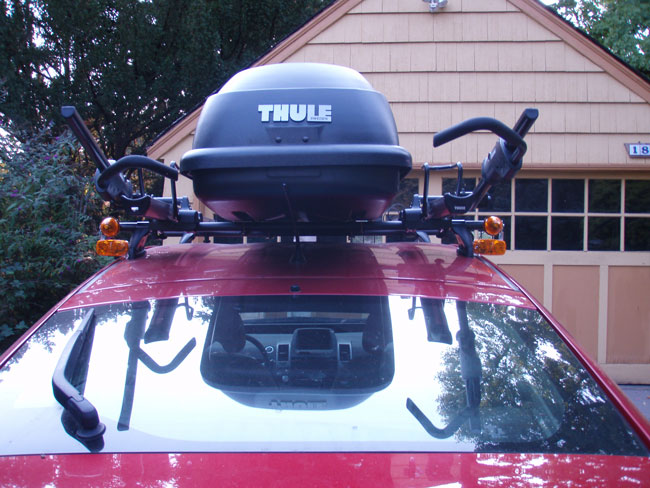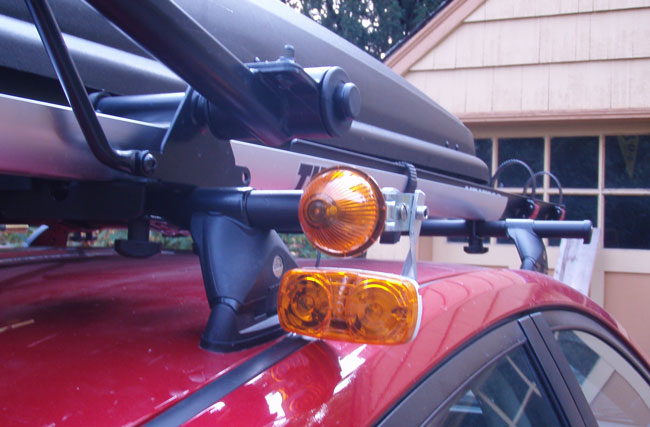 ---
In October 2004 we put out a request for current insights and suggestions for how and where to obtain amber, flashing roof lights and we get the following suggestions from riders and crew. (This was reviewed in 2008 and bad links / no longer available items were removed.)
I just yesterday purchased lights from AutoZone. The lights I purchased are the swirling amber lights that tow trucks often use. I used duct tape to cover the front of the lights, so that the lights would be compatible with the rules that state that light must be "visible only from the rear."
Thanks, Michael Young, Team Javelina
---
Strobe light: JC Whitney, either online at www.jcwhitney.com or by phone. JC Whitney has two or three different versions of the light, next-day or second day shipping as well. Happy shopping!
Michael Fennec Fox
---
The lights can be had at Pep Boys or a truck parts house, get the tow truck magnetic tail/brake light combo and substitute red for yellow lenses.
Wayne Rubber Duck Rosenthal
---
I couldn't find the flashers either a few years ago so I got the rotating ones from Pep Boys and covered the front half of the lens with duct tape. I replaced them with new ones last year so I know they still had them then (around thirty bucks). Actually, seeing numerous vans while riding I noted that they are brighter than most. And they stay on the roof with magnets. Very easy install. Probably many auto accessory stores would carry them.
Ron Worm Way
---
The easy way to make these flashers is to get 2 amber lights wire them together with a turn signal flasher together use a black wire for the positive post and a white wire for the ground/ neutral. Get a cigarette lighter plug and wire them where the positive is in the center (hot wire) and the white wire is the ground and all one has to do is pull it in and out of the plug. One needs to be inventive on attaching them to ones car. I made a set for about 40 dollars and that included boxes.
Elton Bryant, Team Eels
---
I found the lights at Kragen Auto Parts. There are several in my area and I had to go to two locations but they have them on the shelf. I believe that Checker Auto Parts are the same company. Good Luck.
John Lauer, Team Pronghorn
---
I found some amber lights at Napa Autoparts. It was listed as a turn signal light but it is about 3-4 inches circle. It has a single screw mount which works good on some roof racks.  I could not find it on there web site but will get the part number tonight and see if I can find it. They were 15 dollars each. The only thing is the screw connector acts as the ground, so if the roof rack is not grounded to the car you have to add a wire. Autozone parts store also had lots of lights, but nothing as good as the Napa solution. I live in San Diego.
Timothy Cockerham, Team Desert Tortoise
---
Yes, amber flashing lamps are really just for the Department of Highways it seems and not for plebian usage.  However, U-Haul rentals sells a nifty set of magnetic towing lamps for trailers at about $40.00 Canadian (that's around $30.00 U.S.)
They have 4.25 inch red lenses that can easily be replaced with amber lenses obtainable from any semi-truckers supply house. They come with 25 feet of cord that can easily get you under the hood to the battery or to the cigarette lighter as a power source.
They have a strong magnetic base that just pops on the roof of the vehicle.
If you have trouble finding amber lenses that fit correctly, just chop up the red ones and glue or tape any old amber lens over the hole. These lenses can also be found alongside any Department of Highways worksite..
Good luck, Team Lappdog