---
2001: A Year to Remember
The 2001 Furnace Creek 508, its 27th edition, will be a race to remember. It features the largest field ever assembled for this race, with more categories and age groupers than ever before, and it is being held on a year that we will never forget.
This year we are dedicating the race to a former 508 racer and a former 508 staffer, Norm Hoffman and Roger D'Errico, both of whom we tragically and sadly lost this year.
Roger D'Errico was a fixture as the routing guru, race official, and HQ director at dozens of RAAMs, RAAM Qualifiers, 508s, UMCA Record Attempts, and the like, from 1984 onwards. He had an eagle eye for safety, motor vehicle code issues, and other legal aspects of putting on and riding in these types of events. He was a good friend, a devoted supporter of the sport, and absolutely integral to the whole creation and explosion of ultramarathon cycling. Though a life-long cyclist, cancer overtook him this year on April 2 at the age of 52. A fan in particular of the 508 race course, he lived in Shoshone for many years and requested that his ashes be spread along the course during the race this year.
Probably nobody knows how he originally got involved with ultramarathon cycling in the first place, but I can tell you all about it. I hope you'll read on.
In April 1984 I was near the end of my first-ever San Francisco to Los Angeles cycling record. This was the first record that was actually officiated and authenticated by the UMCA. My UMCA judge was Mark Straley, and he joined my crew consisting of my best friend Doug Campbell and my parents Wayne and Shelby Kostman. Prior to this SF-LA record, all records recognized by the UMCA had been authenticated with "proof packages" of newspaper accounts, statements from the rider and his/her crew, and the like. And of course, most of the records had been set by the founders of the UMCA, John Marino, Lon Haldeman, and Michael Shermer, and they all trusted one another, officiated one another, and just knew that their efforts were legitimate. But as the sport took off, due to RAAM and its qualifiers and all the media coverage, there was a need for a more legitimate officiating system for both the races and the record attempts that people like me were wanting to do. So my SF-LA in 1984 was the first record to have a UMCA-appointed judge. I had to pay a fee, fill out paperwork, and the like, and then later I received a "UMCA World Record" plaque in the mail. And it was because of my being the first record-setter to use this system, coupled with my officiating efforts the following month at the second-ever John Marino Open (now called Furnace Creek 508), that I was inducted into the UMCA as an Honorary Lifetime Member later that same year.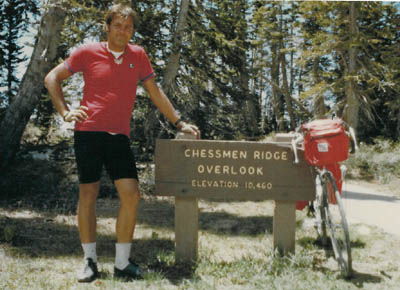 But I digress.
I was riding up the "California Incline" from PCH up into Santa Monica when I heard a voice behind me. I looked over my shoulder and there was a man on a bike in a red jersey talking to my crew as they trailed behind me in my Mom's Buick Skylark. A few minutes later, this man came up and introduced himself to me as "Roger D'Errico." He'd heard of RAAM and really wanted to get involved with ultramarathon cycling. I was the first such rider he'd ever met and he was very excited. He lived in Santa Monica at the time and knew all the roads in the area. He'd told my parents how to get me to LA City Hall via Olympic Blvd as we were sort of winging it on the routing at this point.
His input was greatly appreciated and Roger's suggestions were excellent, proving that even then he had a real talent for routing ultramarathon cycling events!
When I finished that record on April 18, 1984, with a time of 31 hours and 13 minutes for the 472 mile Hwy. 101-based route, Roger D'Errico was there to greet me! He'd gone home, gotten in his car, and driven there to be one of only two people at the finish line to meet me. (The other was a representative of Bata/Power Sports Footwear, my shoe sponsor, thanks to the personal intervention of Michael Shermer. The funny thing was, the shoes were uncomfortable for me after about 100 miles, so I'd started the record ride in them, then switched to my Sidis. But I literally stopped right around the corner from LA City Hall to switch back into my Bata/Power shoes, just for the photos. And then there was a guy from the company to greet me!)
I was only 17. Roger was probably twice my age, I'd guess, but we were brothers in cycling.
And the rest, as they say, is history. I connected Roger to the UMCA and John Marino and he became a fixture as the routing guru and race official at dozens of RAAMs, RAAM Qualifiers, 508s, UMCA Record Attempts, and the like, not to mention having an eagle eye for safety, motor vehicle code issues, and other legal aspects of putting on and riding in these types of events. He was a good friend, a devoted supporter of the sport, and absolutely integral to the whole creation and explosion of ultramarathon cycling.
Roger sort of faded away from the UMCA/RAAM scene in 1996, the same year that I stepped down as Race Director of Team RAAM. And, I have to admit, I totally lost touch with him. But his efforts have never been forgotten and his impact on the sport, in terms of safety, routing accuracy, eye for detail, and much more, will live on forever.
A few months ago, Roger's sister called me to tell me that he had left me his beloved Pinarello. This was a humbling shocker for me, as I'd never had anyone "leave me" anything. She also explained that he wanted his ashes spread on the 508 race course this October. (Roger lived in Shoshoe for many years, because he loved the area so much, I might add.) It will be an honor to do so, the likes of which I have never experienced, witnessed, or been asked to fulfill.
---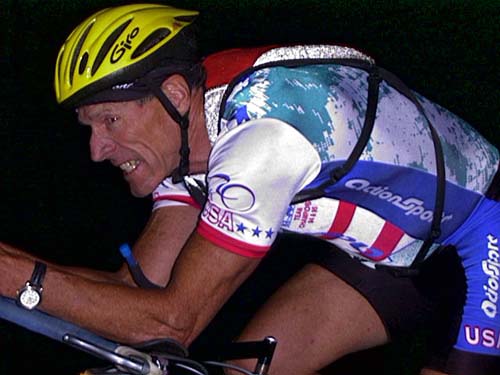 On a sadly related note, we were all made aware of the equally tragic death of 508 team racing veteran and Bakersfield cycling guru Norm Hoffman. On March 14th, Norm, age 60, was killed while riding his bicycle in his hometown of Bakersfield, CA. Norm was training for the US Masters National Cycling Championships. He was killed by a 17 year old driver. The cause of the incident was "inattentive driving" by the 17 year old. Norm was riding as far to the right as possible and wearing his helmet; however, he was killed instantly at the point of impact. As a Bakersfield College professor, radio talkshow host, coach, mentor, record-breaking cyclist, and friend to many, Norm inspired literally thousands of people to live healthier lifestyles and to compete athletically at their highest level. He competed in the 508 twice, in 1994 and 1999, leading high-powered teams to first and second place.
Because he was still active in the community with a wide network of friends, many people, especially Ron Jones, have done several wonderful things to recognize both his death and all of the great things he did during his life, including a memorial that is being established in his honor at Bakersfield College.
We thought the shock was over after Norm and Roger, but then the terrorist attack of September 11 happened. This horrifying tragedy has left us speechless, mourning the loss of life and the chaos that has been wreaked upon American society and the cause of freedom worldwide. Over 6,000 people lost their lives, but everyone is affected.
But it doesn't end there. Just a few days ago, one of our very own, a 508 and RAAM legend who was bringing three friends to race on a team in 2001, lost his little boy in an automobile accident.
Darrell Bowles was riding his bicycle from Phoenix to Tucson trying to log some training miles in preparation for FC508. His wife, Liane, and two sons, six year old John Luc, and three-year-old Dusty, in the family car, overtook Darrell just north of Tucson; their original plan was to pick Darrell up in Tucson and continue together for a family outing at Karchner Caverns. They all stopped on the shoulder of the southbound I-10 frontage road where Darrell decided that he had had enough headwind and was through riding. All four were inside the parked car when it was struck from behind by a pickup truck. Johnnie was pronounced dead at the scene, Darrell and Liane suffered minor injuries, and Dusty was unharmed.
Fingers crossed, let's hope it does end there.
Cycling is a wonderful source of solace, a vehicle for introspection, meditation, and personal growth. To best honor those we've lost this year, spending a weekend on the bike is just the right thing to do.
We're all brothers and sisters in cycling. We all live only once. For those of us lucky enough to race, crew, or staff the 508 this year, or any year, let's count our blessings and dedicate our efforts to something bigger and better than we are. Pedal on!
-Chris Kostman
---
We received the following letter from a fellow cyclist and 508 staffer in response to our Virtual 508 post about Roger. It's such a wonderful piece, so we are posting it here for all to appreciate:
Dear Chris,
I am very sorry to hear about your friend Roger, even though I didn't know him. I will also consider him a "brother in cycling" and am saddened by his passing. As you know, I am a cancer survivor and am familiar with the toll that it can take on a life, if one has the good fortune to survive. We can only re-affirm our love of life and commit to living each and every day to it's fullest.
My condolences go out to all who had the pleasure to know him, and I will tell you that it would be an honor to show my support at the 508 when his ashes are spread on the course. A free spirit such as his will only live on in the desert, where all life is eternal. I have had the pleasure of owning two Pinnarellos, and they also have their unique spirit. Roger couldn't have picked a better person to leave his bike to as you realize how precious and personal his bike was to him.
I was not aware of the death of Norm Hoffman. I am equally sorry as we all are aware of the threat of motorists who are unaware of cyclists.
To quote Marshall "Major" Taylor:
I now hand up my faithful steed,
That served my purpose well indeed.
Just like a true and faithful friend,
It stuck right by me until the end.
Now as a reward for faithfulness,
My trusty bike has earned it's rest.
But not in the attic all covered with dust,
Nor in the cellar to get all rust.
But in the den on a pedestal tall,
Or better still upon the wall.
Where I can see it every day, And it will keep the blues away.
We rode to win in every race,
Fairly we played in every case.
If life grows dull and things break bad,
Just think of the wonderful days we've had.
My heartfelt condolences,
Mike Angelos